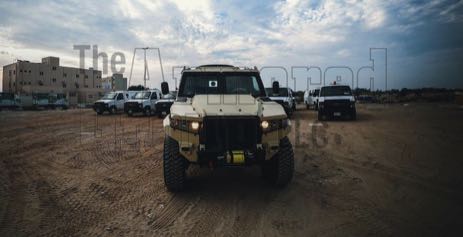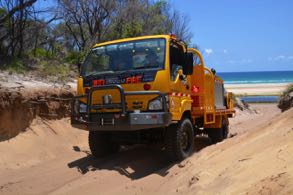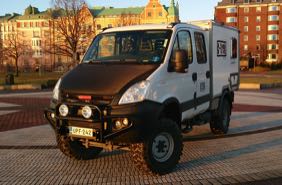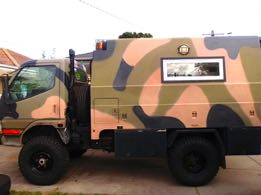 An Iveco Daily 4x4 belonging to C-Trek of Helsinki, Finland running on our 17X9" rims and some aggressive 37x12.5 R17 tyres for use in the snow.
Fitted to a Fuso FG649 ex Army Ambulance
"I got the tyres supplied and fitted, the guards at the front needed a bit of trimming, but I'm really happy with the look and the new ride.
I've attached pic for you.
Take care Paul"
ORCHID BEACH RURAL FIRE BRIGADE
Orchid Beach M.5.2173, Rainbow Beach, Qld.458l.
13th December 2011
The Orchid Beach Rural Fire Brigade carries out planned asset protection burns within
the Orchid Beach Township on the Northern Part of Fraser Island. The Brigade also
assists Queensland Parks and Wildlife in planned bums and wildfire suppression
operations throughout Fraser Island. Virtually all firebreaks and roads are sand with very
rare boarded segments. Many of the firebreaks have steep sections which in dry conditions
require considerable reduction in tyre pressures even in the Light Attack V8 Turbo Diesel
Landcruisers.
In June 2008 the Brigade took delivery of an Isuzu Medium Attack Appliance. Fitted
with the standard truck tyres, the Brigade replaced these with 19.5 inch wheels and truck
tyres to make the vehicle more suitable for the sand conditions. Even with the wider
tyres and reducing tyre pressures the vehicle could only be used in very limited areas
within and around the township and in dry conditions could even bog down on flat
ground. The Executive Committee of the Brigade decided to investigate possibilities in
relation to fitting wider tyres and installing a lift kit. After discussions with Kym Bolton
of Goanna Tracks Overland Expeditions Pty Ltd it was decided to install a lift kit and fit
l7 by 9 inch wheels and Hankook 37x12.5 R17 Dynapro MT tyres.
The Brigade carried out a number of test drives in very soft sand conditions and steep
slopes including the steepest section of firebreak near the township. The Brigade is
absolutely delighted with the improvement these tyres and rims made to operation of the
Isuzu. Even on the steepest sand track these tyres operated effortlessly with a minimum
of strain on the vehicle. The Brigade is now confident that we can now operate this
vehicle on any of the roads and firebreaks on Fraser Island.
The Brigade confidently recommends the use of these tyres and rims to anyone operating in sandy conditions.
SIGNED by both First Officer and Second Officer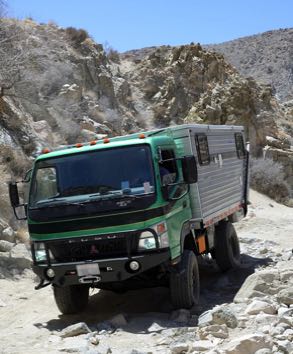 In the USA and based in California a 2006 FG.
Sunil's Overland World Explorer Camper running on the 17x9's.
From another 2010 -Fuso FG84 owner
I wanted to comment on the 17 inch rims and Hankooks. They have completed 4000 km of corrugations, 500 km of sand dunes (the French line in the Simpson desert) bad roads, hill climbs, rocky bars and the worst I could throw at them and have performed flawlessly.
In all I've had the Hankooks on the 17" rims now for more than 20000 km and they are just a superb tyre and rim combination.  
Rick B
Fitted to a Fuso FG 649
Been away for 10 days in the FG with your super singles and Hankook tyres, I must say it has transformed the truck, the ride is so much better and off road the increased clearance and traction make easy work of anywhere I've taken it.
The engine likes the increased gearing, I can sit on 100kph without over revving her.
Thanks mate, the best money I've spent on the truck.
Paul Melbourne
I bought a full set of large canter rims from you a while back, and a second spare a few months ago.
You may recall I mainly use my canter for work and towing my boat and very little off-road.
I just returned from a holiday up at Ningaloo reef (on a station near Exmouth WA).
Access in was VERY rough corrugations and dunes.
The truck performed faultlessly on and off-road. I DID get bogged once on the beach but put the tyre pressure down from 25 to 15psi (I had almost 2 tonnes on the back) and I drove out. (road pressure 50psi)
Chris WA
"Totally stoked with the wheels & tyres"
Dave Z.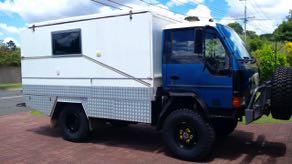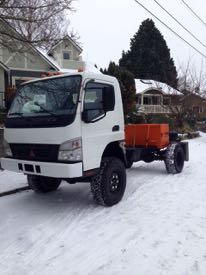 Just got them mounted!
Love the ride!
Michael J,
Portland, Oregon USA.
Michael is just starting an Expedition Vehicle Build.
A Great Looking Concept
I've had the Hankook super singles fitted for about 6 months, and done approximately 10 000kms on them. Very pleased. It felt like riding on air when I have them installed…ride quality is WAY better than the OEM wheels, as is the off-road capability. I've tested them on dunes and thick sand. There is no comparison with the original wheels.
Thanks Etienne, South Africa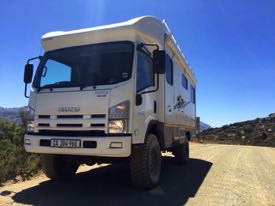 And from as far away as you can get in the Falklands islands !
Its been a long time in the making but the rims eventually arrived and got the rubbers fitted and onto the truck last week, first run out was this last weekend and initial feelings are a big positive over the stock wheel configuration. We needed a small modification to the plastic bit on the front wheel well.
Attached is the promised picture, if you want to hang on a bit I can get some better backdrops around the Falklands for your website picture.
Alan on the Falklands islands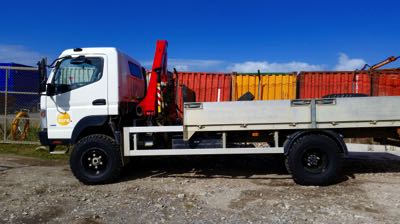 Kym, done about 20000k on tyres, so far no noticeable wear.
Been in both sand and heavy mud, running at rated tyre pressure there is no comparison to previous. Ride rides like a 4wd station wagon.
Note have pulled boat and heavy trailer on jobs in NSW Victoria and Q'land get good road speed and I think much improved fuel economy.
"Very Happy"
Chris
On time and collected from the depot,
Thank you for the wheels, you were a pleasure to deal with.
Ben Perth WA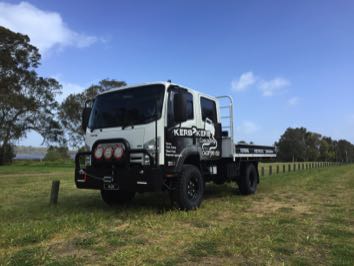 A great build by BiMobile in Germany for a UK based Client.
Alan H. purchased the wheels, bull bar, winch and other accessories from us.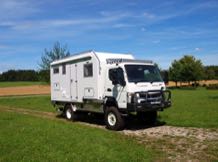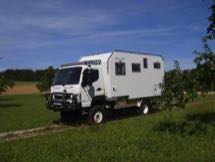 She going well with new tyres.  Picture of us heading out to Ningaloo.
Thanks again – loving it.
Regards David from WA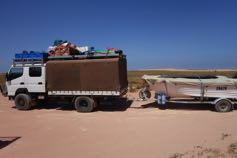 We have just returned from Tasmania travelling over 7000 kms. With the Hankook super singles and the aftermarket springs it is a different truck to drive very happy with the improvement can now sit on 100 k/h without stressing anything and the ride is great
Cheers Kevin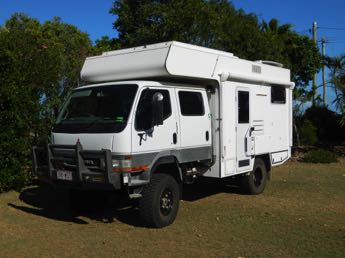 A Narrow Cab Fuso 4x4 Canter in Japan with our 37" Super Singles.
I thank you for Kim.
A photograph is a thing when I went to the north Fuji practice ground.
The north Fuji practice ground can enter it in the training facilities of the Self-Defence Forces.
As far as the run characteristics of the canter improve markedly and are glad.
Because a tire protruded, the front posted a rubber fender, and the back processed a fender and moved it outward.
Thank you very much.
I'm happy
Makoto Sone
Sinclair's Bus.
Sinclair in New Zealand has just set up a Fuso/Rosa 4x4 bus for a world trip and is running the Super Singles and hankook tyres.
Looks great !
We have had your wheels on our Oka for a couple of weeks now .
The transformation from both the 16 inch alloys and the 19.5 steel rims we have previously run has been huge .
The on road characteristics are improved but the biggest gain appears to be off road getting the power to the ground in both mud and sand is very impressive .
Thank you Dave and Cath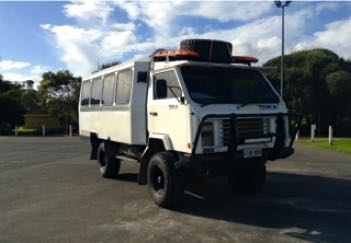 FG649
Thanks to your help and guidance re tyres.
One of the best things I have purchased in my life
and great to travel in and giving lots of enjoyment.
Thank you again  for all your great help making this happen.
Geoff M from Perth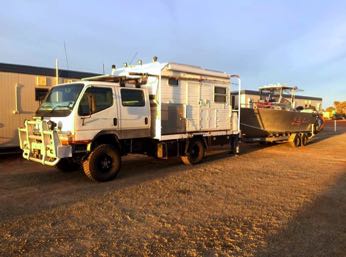 FGB 71
Just saying thanks !
These tyres are awesome.
We are loving the places we can get to now.
This is just over the boarder at Ballina.
Matthew G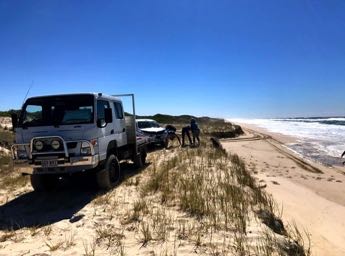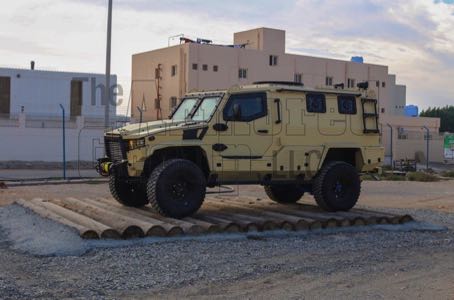 Now for something completely different
An armoured personal carrier developed in the UAE using the Goannatracks 17x9" Super Singles.
They need a tough wheel for the 4 ton Toyota based vehicle, and our testing and international SAE J328 had the credentials.