We purchase our tyres direct from the manufacturer and supply only what we have personally tested and used.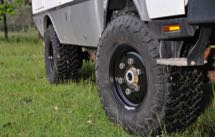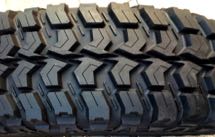 The 17" x 9" rims have been specifically designed and manufactured in Australia for these vehicles so that they can be used successfully in off-road applications.
The front and rear wheels now track in the same line making driving easier and safer through sand, mud and snow.
Fitted with 37" tyres, the ride and comfort of these Light Trucks is significantly improved. The larger rolling diameter improves fuel economy, reduces engine noise, and offers improved approach, departure and ramp over angle.
Rims are vehicle specific and are designed to complement the vehicle.
Gloss Black is standard but other colours available on request.
Complete Rim and Tyre Package.
Fitted and Balanced
with Optional
TPMS System
Made in the Australia by our largest and most respected wheel manufacturer specifically for us and to our design and specifications.
Fully tested independently by ROH in their mechanical testing laboratory to the international standard of SAE J328 at 1950Kg.
The rims are quality Two Pac finished in Gloss Black, Silver or White.
The Fuso, Isuzu & Hino rims have two valve holes and fitted wheels have two valve stems allowing easy access when mounted face out or reversed.
Every rim design has been fully tested at 2.25 times its rated load under the international SAE J328.
Personal testing also covers four continents and over 140,000Km
Our rims are used Australia wide and exported globally.
Recent exports include an oil prospecting company in Mauritania, a UK hire company, Camper builders in the US and Canada, and recently a quarry operator in the Falkland Islands.
I have designed and built what is now the three major Australian commercial production Overland Campers.
Having driven more than a quarter million kilometres internationally, the knowledge gained allows me not only to offer the best off road Super Single wheel package but also to pass on the name of exceptional companies who also do exceptional work on Fuso, Iveco and Isuzu vehicles.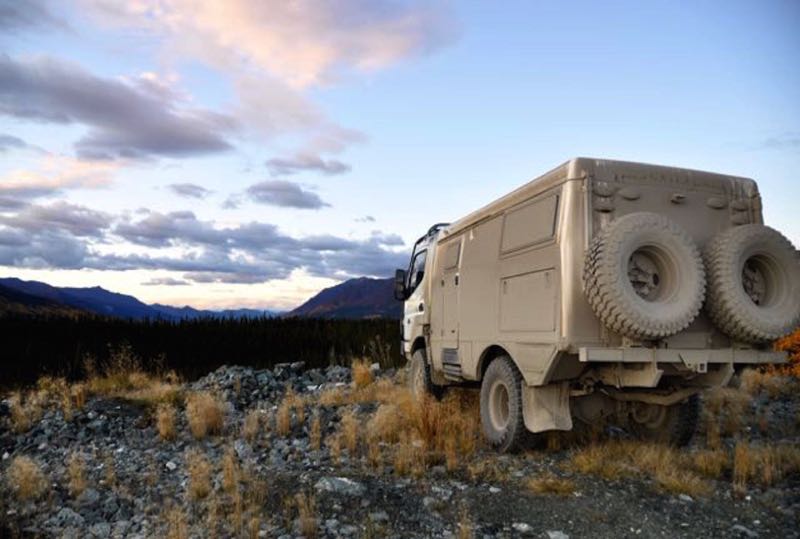 Super Single Wheels make off road driving safer and easier through Sand, Mud and Snow.
Specially designed for
Fuso Canter 4x4
Isuzu NPS 4x4
Iveco Daily 4x4
OKA 4x4 now available.
Super Singles for Hino 817 4x4 now available.
The production dual wheels are useless off road.
They will not track well in sand or mud and collect rocks between the rear tyres on gravel roads, this is the answer !
Gravel Road Testing
The Ice Road
Prudhoe Bay, Alaska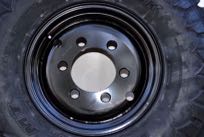 NEW TrackMaster, A World First